Get ready to revolutionize your Excel experience with the latest version of PK's Utility Tool V3.0. This is a comprehensive and powerful add-in designed to enhance your productivity in Excel. This free to download utility tool and it has a wide range of advanced features and improvements over its predecessors, making it an indispensable tool for every Excel user. In this article, we will discuss the various features offered by this remarkable PK's utility tool and how you can make the most out of them.
In this version we have added below given features-
Selection Group:
Under the selection group of PK's Utility Tool V3.0, we have added below given four new features. These features will work even you have put some filter in the data. It will apply only on visible and constant cells.

1)  Auto fit:
You can use this feature to auto fit the rows and column in one click.
2) Add Prefix:
Using Prefix button, you can add some prefix text in the selected range.
3) Add Serial Numbers:
You can add the serial number for the selected range using this button.
4) Add Suffix:
Use this button to add the suffix text in the selected range.
Object Manager Group:
In this group, we have added two new features:

1) Make same size:
Using this button, you can make the same size of selected objects – like charts, shapes etc. Base object will be the first selected object.
2) Apply same formatting:
You can apply the same formatting using to selected shapes. Base shape will be the first selected shape.
General Group:
This is the new group, which we have added in this version. In this group we have added six new features:

1) Open path of active file:
You can open the parent folder of active excel workbook by clicking on this button.
2) Open web WhatsApp:
As we know, we cannot send the WhatsApp to the new number without saving it in the contact list. but using this button, it is possible. when you click on this button, it will ask to input a contact number with country code. You can select it from an excel file or you can enter it directly in the input box.
After click on the OK button, it will open the web WhatsApp chat window with that contact number in your default web browser:
Note: You must login into your web WhatsApp account in your default browser.
3) Create Static Name:
This is an old feature. we just have move it from the Selection group to General group. Using this feature, you can create multiple named range in one click.
4) Create Dynamic Name:
Using this feature, you can create the multiple named range from the selected range. These name will be dynamic and we have used the Offset function in the backend to make it dynamic.
5) Insert Checkboxes:
This is extremely useful feature, when you want to insert bulk form control check boxes with linked with the relevant cell.
6) Merge cells:
Using this merge cell feature, you can merge, and center selected cells without losing the data.
Worksheet Manager Group:
In this we have added one new feature-
1) Manage Pivot Tables:
Using this feature, you can manage the pivot table of your active workbook. When you click on this button it will open the new Pivot Table Manager form. Below are the features of this Pivot table Manager form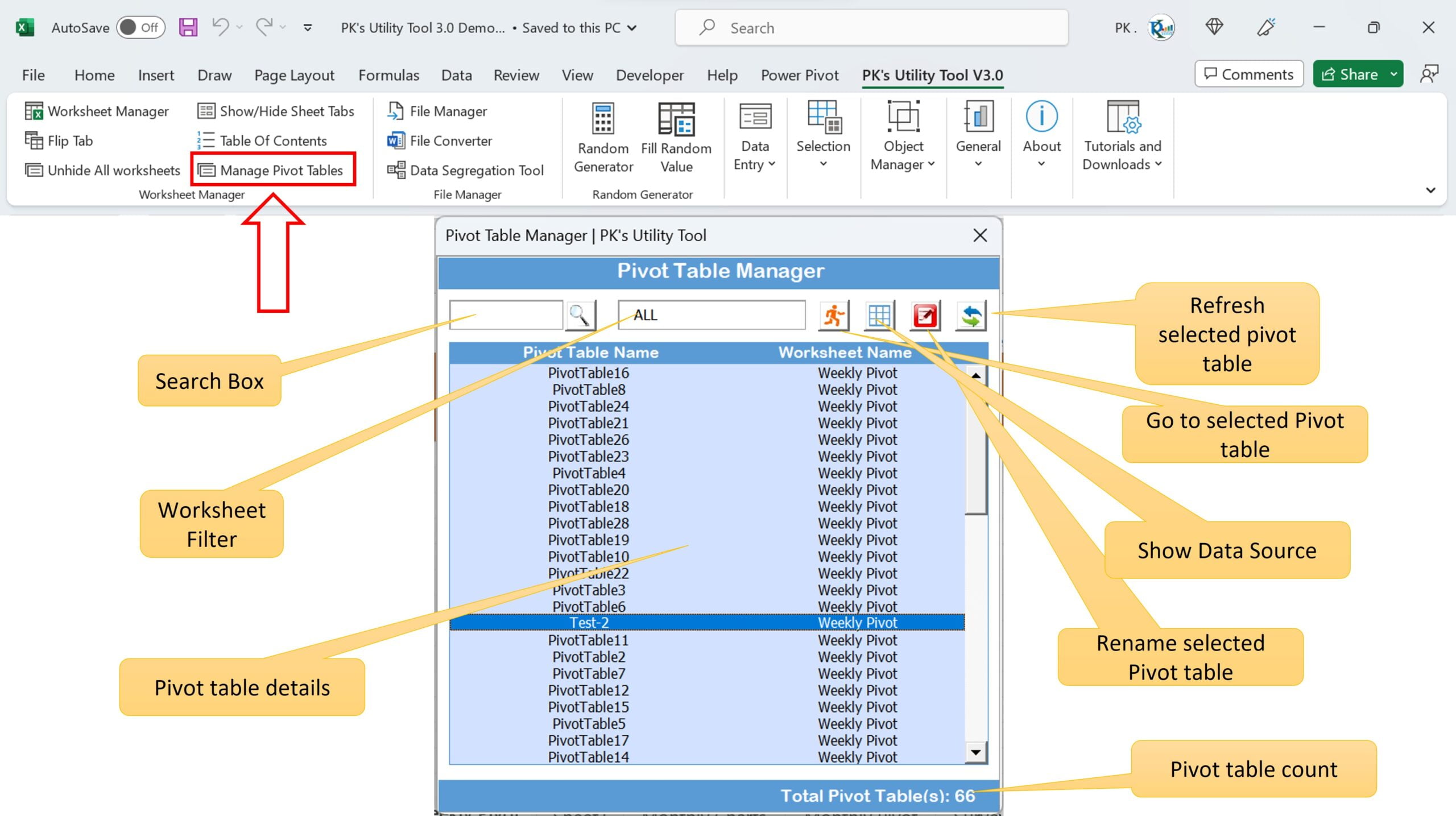 Search:
You can search the specific pivot table by typing the name of the pivot table in the search box.
Filter by worksheet:
You can select the worksheet name in the filter drop-down to show the pivot table only for the relevant worksheet. By default, it is "ALL"
Go to Pivot table:
To go to the particular pivot, you can click on the go to selected pivot table button, or you can double click on the pivot table name. It will immediately highlight that pivot table on the screen.
Show Data Source:
If data source of the pivot table is in the same excel file, then you can quickly see it using this button.
Rename selected pivot table:
You can select any pivot table and click on this button to rename the pivot table.
Refresh selected pivot table:
You can refresh the pivot table using this button. Select the multiple pivot table to refresh the multiple pivot table.
Click here

to know more about features of PK' Utility Tool V1.0-

Click here

to know more about features of PK' Utility Tool V2.0-
Visit our YouTube channel to learn step-by-step video tutorials
Watch the step-by-step video tutorial:
Click here

to download this file