In this article, we have created an Automated Bulk Email User form to send the bulk emails using Microsoft Outlook. We have taken two different type of emails – Customer Bills and Payment Reminders. You can attached two file in the email. Attachment is optional, you don't want to attach the file just keep it blank.
Bills and Reminders Worksheet:
We have created two worksheet- 1-Bills, 2-Reminders. We have put our customer data like – Customer Name, Bill type, Due Amount, Due Date, Customer Email Id, Attachment1 and Attachment2 (Optional), Email Subject (Formula), Email Body (Formula)

On the bulk Email form we have given 3 different frame with 2 option button in each frame-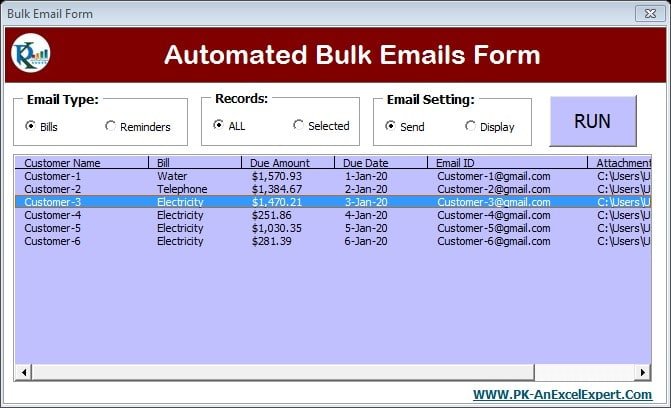 Email Type Frame:
In the email type frame, you can choose Bills or Reminders. Data will changes in the list box according to the selection. It will pick up the data from the respective worksheet.
Records Frame:
In the Records frame, you can choose ALL or Selection option. If you want send the email for all customers available in the list box then choose ALL option. If you want to send the email only for the selected customers (Select in the list box) then choose Selected option.
Email Setting Frame:
In this frame, you can choose Send or Display option. Send option is to send the email to the customer directly and Display option will display the email and you can send it manually after reading it.
If you choose the display option then it will display the emails as given in below image-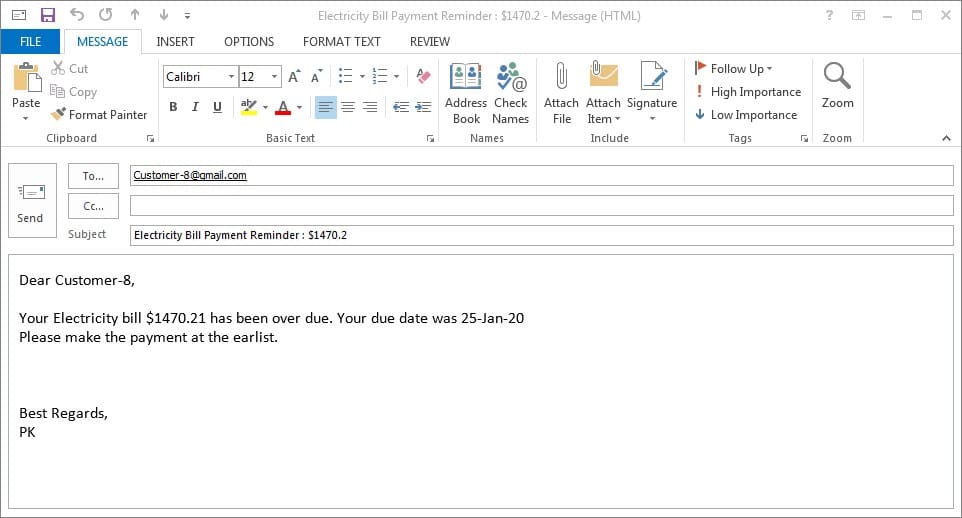 Run button:
Run button is to perform the action according to the selected options in different frames.
Click here

to download this practice file.
Watch the step by step video tutorial: