Introduction
Welcome Excel enthusiasts! If you are always on the lookout for nifty Excel tips and tricks that can help you work smarter, you're in the right place. Today we delve deep into a hidden gem within Excel that not many are aware of, the magical search bar. Get ready to unlock one of the fascinating secrets of Excel that is bound to change the way you navigate through your spreadsheets.
What is the Magic Search Bar in Excel?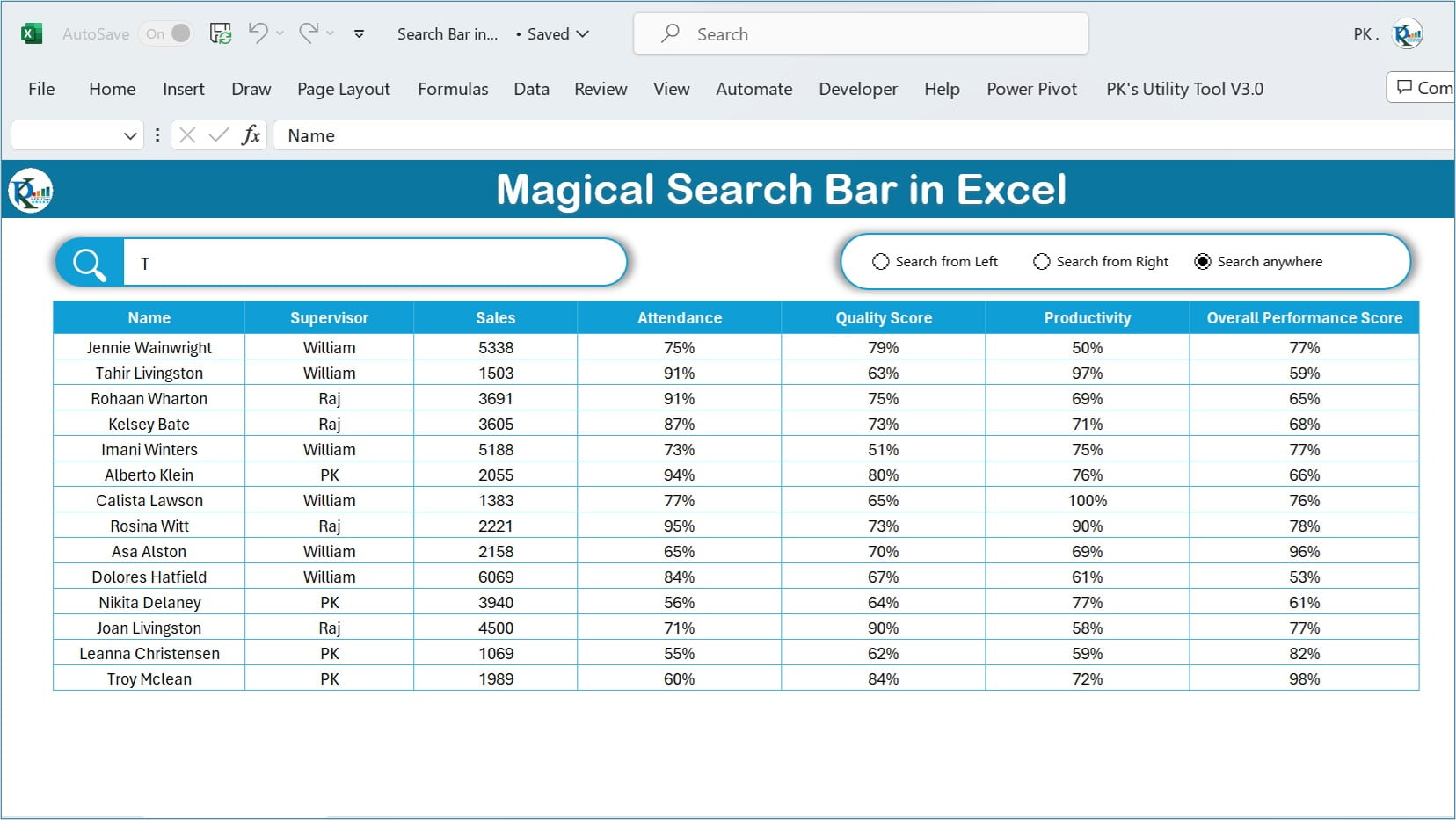 Let's start by answering the question: "What is this Magic Search Bar in Excel?" Simply put, this is a feature that you can create using a combination of Excel Shapes, the ActiveX Control Text Box, and the Form Control Option Button. The real magic, however, is performed by the FILTER formula in Excel that helps fetch the desired data.
Features of the Magic Search Bar in Excel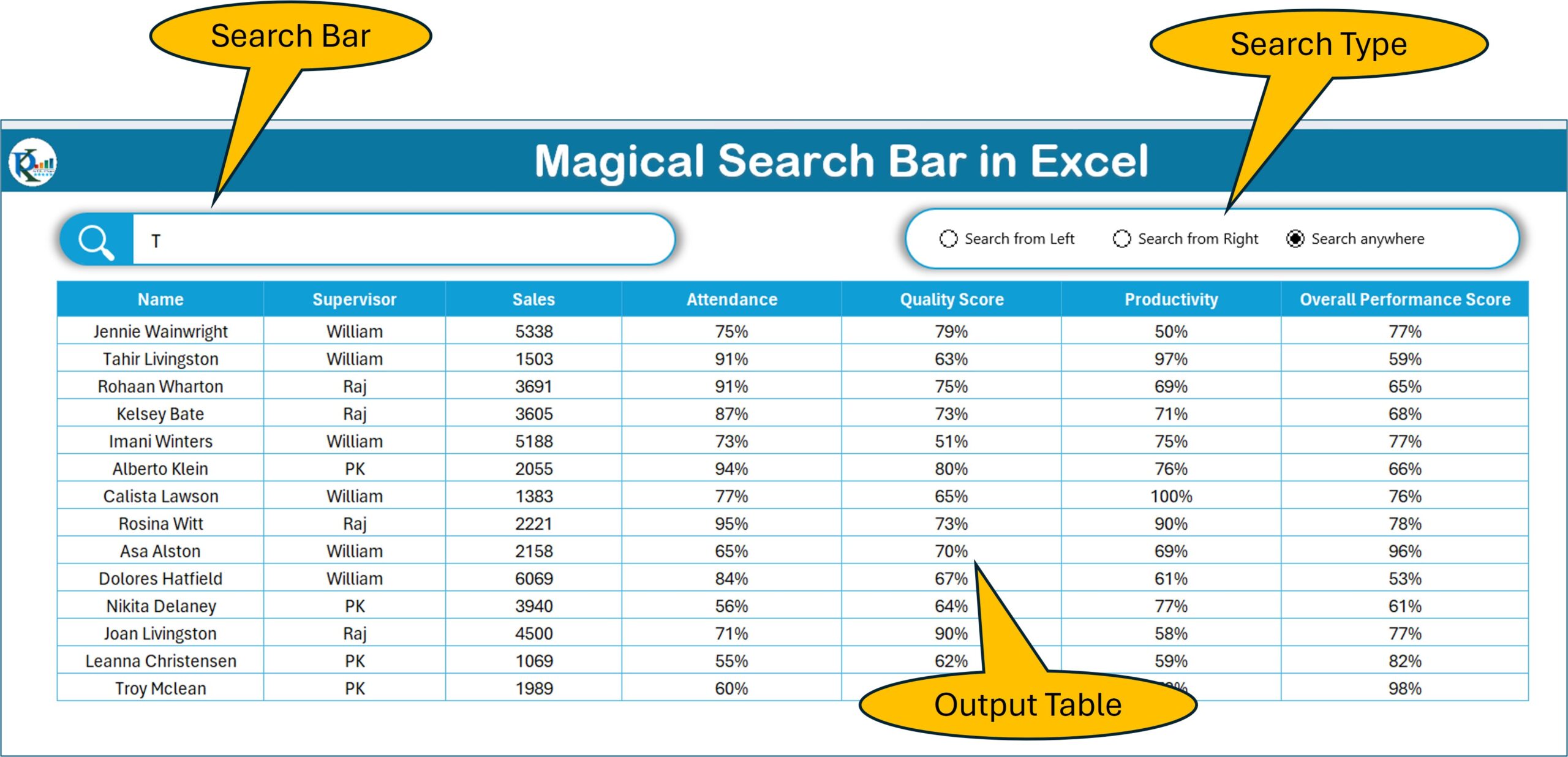 The Search Bar
Prominently placed at the top, the Search Bar is where the magic begins. As you start typing an employee name here, the output table immediately displays the relevant information, almost as if by magic.
Search Types
Offering three distinct ways to find your data, the Magic Search Bar transcends the limitations of conventional search features:
Search From Left: If you need to search by the starting letters of the employee's name, this option is for you. For instance, inputting "T" will display all names starting with "T."
Search From Right: This function lets you search names from the end. Inputting "T," for instance, will display all names ending with "T."
Search Anywhere: This all-encompassing option enables you to find an employee's name with your chosen letter anywhere within it. An input of "T" will yield all names containing "T."
Output Table
Situated below the Search Bar and the Search Type options, the Output Table provides a neatly arranged view of your search results, making data interpretation effortless.
Data Worksheet
This separate worksheet houses all the data which the Magic Search Bar relies on to work its wonders.
Advantages of the Magic Search Bar in Excel
With the Magic Search Bar in your toolkit, you can:
Quickly find specific data without having to comb through rows and rows of information.
Conduct targeted searches using different search types.
Improve your productivity by making data retrieval faster and easier.
Opportunities to Improve the Magic Search Bar in Excel
While the Magic Search Bar already provides immense value, it could be further enhanced. For instance, adding a dropdown list for predefined search categories or introducing an autofill feature for frequently searched names can make the tool even more powerful.
Best Practices for the Magic Search Bar in Excel
To make the most of this tool:
Keep your data worksheet well-organized and up-to-date.
Use appropriate naming conventions for clarity.
Regularly clear the Search Bar cache to maintain optimum performance.
How to Create the Magic Search Bar in Excel
Interested in setting up your own Magic Search Bar in Excel? We have a detailed, step-by-step video tutorial just for you. Please watch the video linked below to learn how to create and use this transformative tool effectively.
Magic Search Bar 2.0
In this version, we have added the Multi column search feature with Case Sensitive Search feature.
Watch the step-by-step video tutorial for Magic Search Bar V2.0:
Conclusion
With the Magic Search Bar, Excel becomes more than just a spreadsheet application. It becomes a powerful tool to sift through loads of data quickly and efficiently, saving you precious time and energy. So, gear up to unlock the secret, and elevate your Excel game to new heights.
Frequently Asked Questions (FAQs)
Q. Can I use the Magic Search Bar for fields other than employee names?
Absolutely! You can use this tool for any data type that can be searched textually.
Q. How can I troubleshoot issues with the Magic Search Bar?
Ensure that your Data Worksheet is correct and recheck the FILTER formula. If issues persist, revisit the tutorial video.
Q. Can the Magic Search Bar handle large amounts of data?
Yes. Excel's Magic Search Bar is designed to manage large data sets efficiently. However, for extremely large data sets, performance can depend on your computer's capabilities.
Visit our YouTube channel to learn step-by-step video tutorials
Click here

to download the practice files for both version.